Blog
Riccar Carpet Keeper
MIKE'S VACUUM

Mike's Vacuum is proud to team with Riccar to sell American Made vacuum cleaners and carpet cleaners. There is not one American Made vacuum cleaner or carpet cleaners sold in discount stores or big box stores.
The Riccar Dry Carpet Cleaner is approved by the Carpet and Rug Institute. CRI Seal of ApprovalThe Riccar Dry Carpet Cleaning products have passed both the CRI's SOA testing and the WoolSafe® testing as safe for wool carpet and rug care.In fact, this is the only carpet cleaning system made for the homeowner that is approved the the Carpet and Rug Institute.
It took an American company to recognize that the need to make dry carpet cleaning easier for the average homeowner was important as most carpet fiber manufactures recommend dry carpet cleaning. Riccar designed the CarpetKeeper to make working the dry carpet cleaning powder into your carpet almost effortless. With two counter revolving brushes, the CarpetKeeper agitates the powder deep into your carpet without throwing the powder around keeping it under the unit.
Click on image below to enlarge.
Riccar CarpetKeeper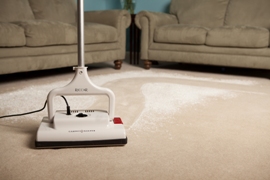 Nybakke's 30+ years of experience using in our own homes as well as selling this dry carpet cleaner has made us aware of how to use this system getting the best results every time. Our instructions (click here to print out a pdf file of our step by step instructions) are easy to follow and if you use the Riccar CarpetKeeper to brush in the dry carpet cleaner you can keep your carpets beautiful. Plus, having the CarpetKeeper in your closet is the ideal way to maintain your carpets.High Traffic Areas80% of your foot traffic is confined to a 20% area of your carpet surface. No need to wait till the whole room full of carpet is dirty to clean. Water methods spread so you must move every piece of furniture and clean wall to wall every time. With dry cleaning, clean just those areas that need it and blend the dirty part to the clean.
Also the Riccar Dry Carpet Cleaning System is the best carpet cleaning system for reducing allergens. Dust mites thrive in damp environments so you may stimulate a greater population of mites after wet cleaning. The Riccar Dry Carpet Cleaning system is proven to reduce and not re-stimulate dust mites.
Click on image below to enlarge.
How to take care of your carpets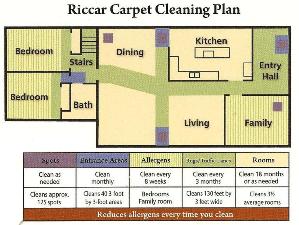 About Mike
---
Leave a Reply
You must be logged in to post a comment.